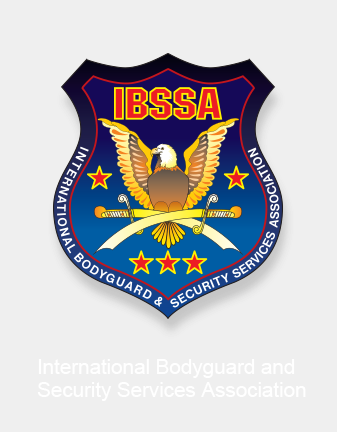 Michael Jackson in memory of the IBSSA
---
Numerous IBSSA members made security work for the world-famous American singer during his long artistic career, and his complex and varied activities.

Michael Jackson was a Knight of Malta, as clearly visible in the picture that he wore the crowned Maltese cross. The photo was taken when he received the Honorary 5th dan in Karate during a high-level event in Tokyo, in 1998, where Mr. Jackson was honorary guest, and the protocol event was organised for about 1000 guests. This significant event - attended by the prime group of the Japanese social, economic and political life – was organised for celebrating the creation of World Karate Promotion Foundation (WKPF). WKPF was established by a considerable number of businessmen with the aim of turning Karate, the Japanese national sport, to olympic sport.

The guests of honour of the opening ceremony of the campaign were: Michael Jackson and George Popper, who was this time the Executive President of WKPF and also of IBSSA, and Secretary General of the European Karate Federation.

Hereafter "Jacko", the artist played a major role in the battle for recognition of karate as an olympic sport, which has now become current again.
Also known fact is that Michael Jackson kept on doing significant humanitarian activities in his country as well as abroad.

Rest in peace!
Search
---
My IBSSA
- Sign in or Register
---
---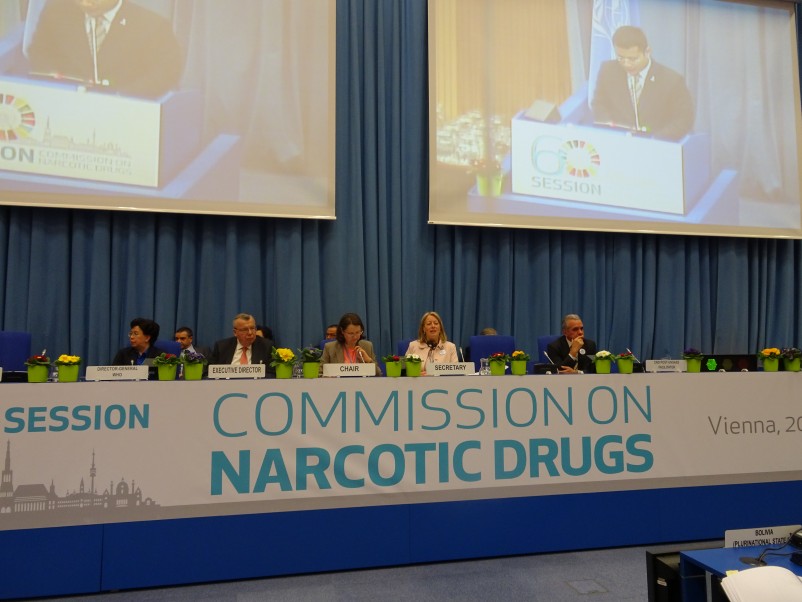 The Commission on Narcotic Drugs (CND) was established by Economic and Social Council (ECOSOC) resolution 9(I) in 1946 to assist the ECOSOC in supervising the application of the international drug control treaties. In 1991, the General Assembly (GA) expanded the mandate of the CND to enable it to function as the governing body of the UNODC. ECOSOC resolution 1999/30 requested the CND to structure its agenda with two distinct segments: a normative segment for discharging treaty-based and normative functions; and an operational segment for exercising the role as the governing body of UNODC.
Executive Protection course in South Carolina between 9-15 April 2017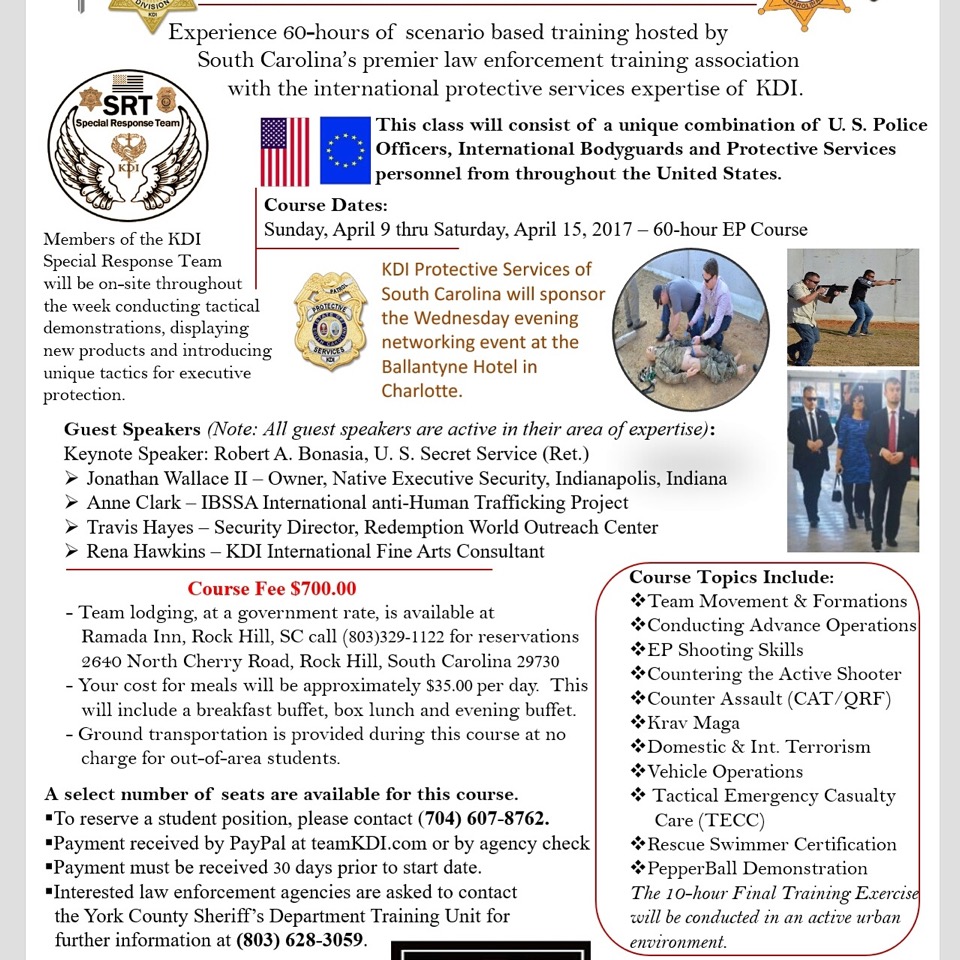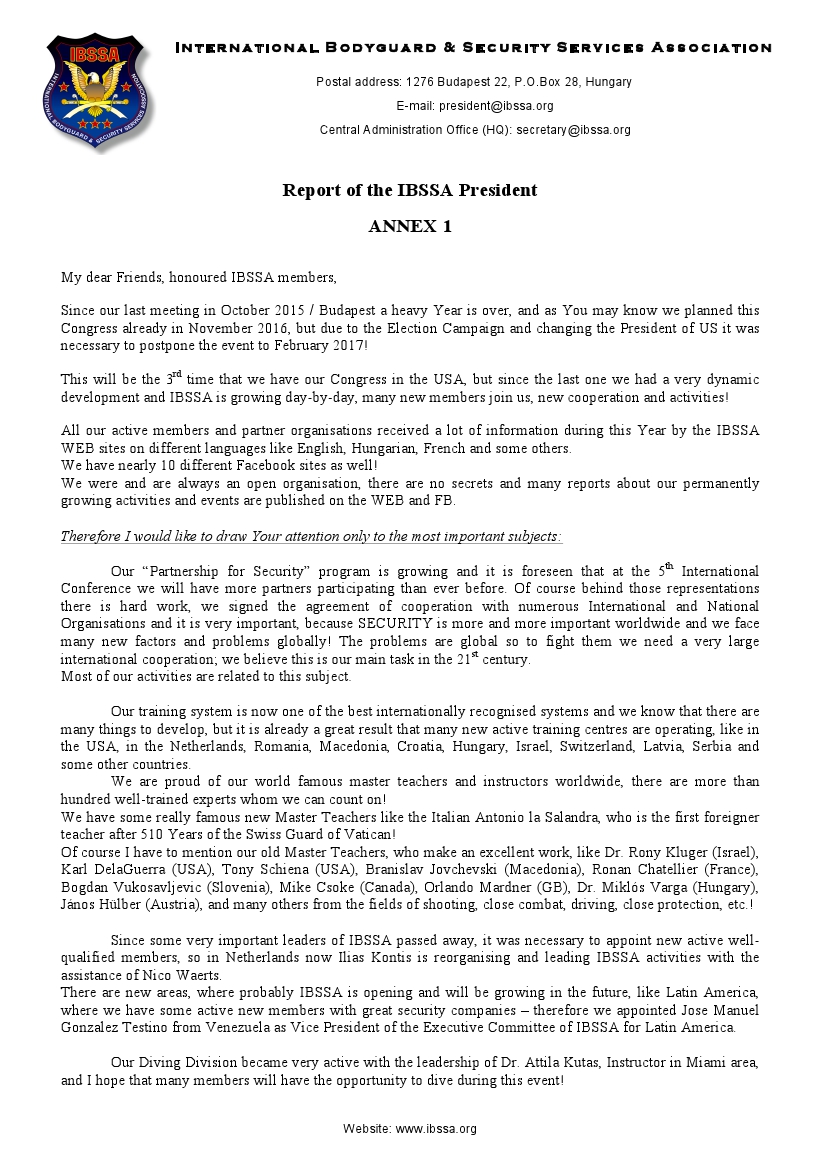 My dear Friends, honoured IBSSA members, Since our last meeting in October 2015 / Budapest a heavy Year is over, and as You may know we planned this Congress already in November 2016, but due to the Election Campaign and changing the President of US it was necessary to postpone the event to February 2017!
This will be the 3rd time that we have our Congress in the USA, but since the last one we had a very dynamic development and IBSSA is growing day-by-day, many new members join us, new cooperation and activities!
---